on
May 22, 2011
at
8:55 pm
on
May 7, 2011
at
5:48 pm
I'm working on a postcard that I can hand out at conventions, leave on tables, etc, and I've got one side draw, but I'm not sure about the dialog on it, so I thought I'd let everyone throw some ideas in to the pot.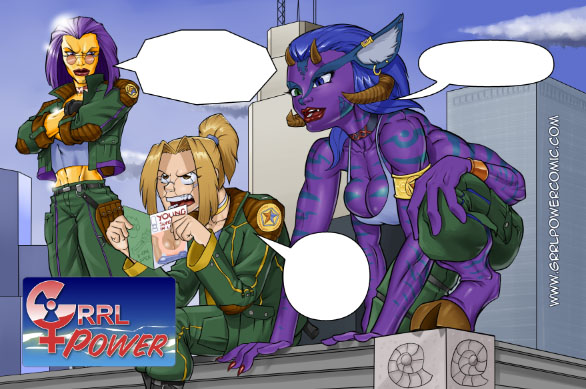 The idea is that I take the craziest looking characters and have them commenting on the comic that Sydney's reading, thus irritating her. I'm not sure what to go with though, here's a few things I came up with:
Maxima: The characters in that comic are so outlandish.
Dabbler: It's just so unrealistic.
Sydney: What are you guys, the ironic duo?
I'm not sure that having Sydney calling out the irony makes for the most elegant delivery, so I started coming up with alternatives like:
M: Do the characters in that ever stop flexing? (one of my pet peeves about the way most comics are drawn)
D: Wow even I can't bend my back like that.
S: Do you mind?!
Or:
M: Not enough action.
D: Not enough sex.
S: Shouldn't you be fighting crime somewhere?
And the like. I thought before I got 5,000 printed I'd throw this out there and see if anyone had any favorites or even your own dialog that might work better. I need to send this to print Monday 5/9 to get it back in time for the Dallas Comic Con which I'll be wandering around for at least part of a day, so I have until Monday evening if anyone wants to contribute.
on
April 19, 2011
at
12:05 am
Testing the blog features of this… blog. I just don't know where it shows up. I might have hidden it with CSS. I dunno if it shows up in the RSS either.
Anyway, I wanted to say I'm planning on going to A-kon this year. I'm not getting a table as the comic's not really mature yet and I don't have anything to sell, but I'll be there. I'll probably hit a few of the panels, especially the Antarctic Press one and possibly if there are others about webcomic specific things.
So let's see if this even show up on the page anywhere.